There are plenty of year-end book lists to keep your attention (and your wallets) busy. But I always like to highlight some of my very favorite reads from this year. It seems like every year I do one of these, it helps someone find one of these books. So, it's worth it.
Some of the titles listed were not written in 2019, but this is the year I finally got to them. Some of them are new this year, though, and worth spreading the word about. I've included 9 Christian titles and 9 non-Christian titles.
Christian Titles
The Common Rule: Habits of Purpose for an Age of Distraction
(Justin Whitmel Earley, 2019)
Probably my personal favorite from this year. Earley's "rule of life" is tremendous, and has benefitted me personally this year as my wife and I have begun to implement the practices in our home. I have certainly seen the positive effects of growing in these daily and weekly habits in my own life and the lives of others I know. It's a tremendous resource that I think will be used for a long time in the Church. I review it in much more detail here.
Love Thy Body: Answering Hard Questions about Life and Sexuality
(Nancy Pearcey, 2018)
To date, this work by Pearcey is the best Christian commentary on the most pressing cultural issues of our day — abortion, euthanasia, homosexuality, transgenderism, and more. Pearcey writes with incredible insight and clarity about the problems with the worldview that underpins these issues. She stands in the shadow of Francis Schaeffer, one of the American Church's most significant voices on cultural engagement in its history.


Confronting Christianity: 12 Hard Questions for the World's
Largest Religion
(Rebecca McLaughlin, 2019)
McLaughlin has compiled an extremely well-researched and well-written exploration of common objections to Christianity, and helps to demonstrate not only the validity, but the goodness, of the gospel for society. This data and discussion is going to help church leaders for a long time.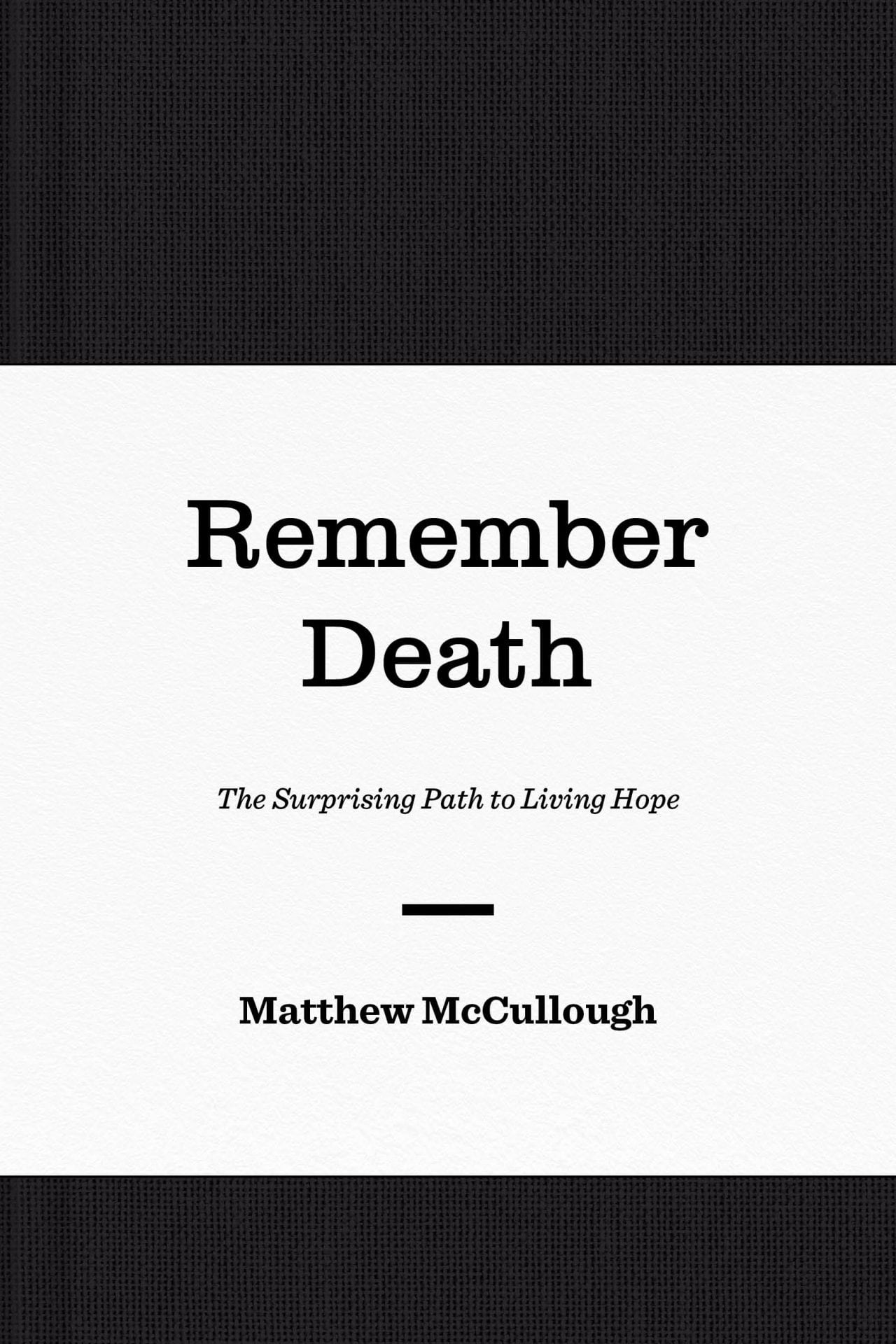 Remember Death: The Surprising Path to Living Hope
(Matthew McCullough, 2019)
It's the kind of book one doesn't pick up without immediately feeling its weight and intensity — a book about death, with a black-and-white cover. But this was one of the most unique theological books I read this year. Perhaps because (as McCullough points out), we are not prone to reflect much on death. But this book is really needed for the Church, and McCullough did a great job with such an intense topic.
The Crucifixion: Understanding the Death of Jesus Christ
(Fleming Rutledge, 2017)
This was my Lent/Easter read this year, and it was a fantastic meditation on the death of Christ. A tough and long, but so-worth-it read. Rutledge writes with real beauty. Her chapter "The Godlessness of the Cross" alone is worth the price of the whole book.
Evangelism As Exiles: Life on Mission as Strangers in Our Own Land
(Elliot Clark, 2019)
This is not your typical book on evangelism, and that's a positive. It avoids clichés and acronyms and how-to lists, and instead inspires a vision for evangelism through the lens of 1 Peter. Clark does a great job of contextualizing Peter's letter for the American Church. Very theological and very practical.
Liturgy of the Ordinary: Sacred Practices in Everyday Life
(Tish Harrison Warren, 2016)
I was very late to the party reading this one, but in this case, better late than never. This paired well with Earley's The Common Rule and helped me to see the power of everyday liturgy, especially in the home and family unit. Tish is a gifted communicator.
The Storm-Tossed Family: How the Cross Reshapes the Home
(Russell Moore, 2018)
Russell Moore is one of the most important voices in American Evangelicalism, and his writing on the crisis and the recovery of the family unit is much needed and can be helpful for just about any family shape or size. I love especially how he points us to the family nature of the local church.
Answering God: The Psalms As Tools for Prayer
(Eugene Peterson, 1991)
Okay, this one is much older than the others above it. But I read it for the first time this year, and it is superb. This year, I spent a lot of time reading books on prayer. Of the roughly dozen or so books that I read this year on prayer, this one was my favorite. Have a pen handy.
Non-Christian Titles
The Warmth of Other Suns: The Epic Story of America's Great Migration
(Isabel Wilkerson, 2010)
I love learning about significant events from history that go largely unheard of today, and this might be one of the more important ones: the massive migration of black citizens who fled the South for various regions in America. Wilkerson uses the lives of three different people to tell her story. It's a very long, but rewarding read.
Just Mercy: A Story of Justice and Redemption
(Bryan Stevenson, 2014)
I also read several books this year about justice, and this was one of the highlights. A brilliant book that was a New York Times bestseller, Stevenson details his work in advocating for the wrongfully imprisoned and holding our justice system accountable for biases against people of color. This book is also being released as a movie in just a couple of weeks.
The Sun Does Shine: How I Found Life and Freedom on Death Row
(Anthony Ray Hinton, 2018)
Reading Just Mercy led me to the fascinating case of Anthony Ray Hinton, a man wrongfully placed on Death Row for a crime he did not commit. Bryan Stevenson worked with Hinton to secure his release from Death Row, but hearing Hinton's story first-hand was remarkable.
Dignity: Seeking Respect in Back-Row America
(Chris Arnade, 2019)
If you read one "political" book published in 2019, read this one. It's a phenomenal and sobering look into some of the most poverty-stricken areas of our country and the people within them. How can we restore dignity to "the least of these" that are among us? This book helps us think through that.
The Good Neighbor: The Life and Work of Fred Rogers
(Maxwell King, 2018)
There has been a lot of talk about Mister Rogers lately, especially with the recent Tom Hanks biopic about him. This biography by King was a wonderful look into Rogers' life and what made his work so influential and evergreen.
Open: An Autobiography
(Andre Agassi, 2009)
Honestly one of the most fascinating biographies I have read in a while. A tale about much more than tennis. A very transparent look into the life of a guy we thought had it all.
The Wright Brothers
(David McCullough, 2015)
Really interesting story of the Wright Brothers' invention of the airplane. Some good leadership principles embedded in their journey. McCullough is a master storyteller.
A Man Called Ove: A Novel
(Fredrik Backman, 2014)
This was the year I got into Fredrik Backman, reading four of his novels. He's quickly become one of my favorites. This novel is probably the one I enjoyed most of the four (although all of them were fantastic in their own way). A touching and thought-provoking story.
All The Light We Cannot See
(Anthony Doerr, 2014)
Apparently I'm five years late to the good novels. This one, a Pulitzer Prize winner, is a piece of historical fiction set in France during WWII. A fast-paced and powerful story. Very hard to put down.
And if you're into this sort of thing, connect with me on Goodreads to see what I'm reading and other book reviews. It's a great place to get book recommendations and hear what people think about the books you may be interested in reading.